About Us
Shandong Faster Conveyor Belt Co., Ltd.
Shandong Faster Conveyor Belt Co., Ltd. Is the production of "Fast Steel" brand series conveyor belt as the leading medium-sized joint-stock enterprises, located in Qingdao West Coast New Industrial park, the company has domestic first-class advanced equipment, production technology and rich management experience, complete testing equipment, advanced technology, strong technical force, perfect and reliable quality management system. To ensure that the whole process from raw materials, semi-finished products to finished products is tested and controlled with high quality, to ensure that users get consistent quality products. According to the different technical requirements of domestic and foreign customers, the company's products in accordance with the industry, national standards but also according to foreign technical standards organized production.
Focusing on the customized production of conveyor belts and conveying equipment. We can provide personalized production services according to customer needs, use environment, etc., customize personalized patterns, special color modulation, special thickness pressing, special performance production, product performance adjustment, etc. Provide a variety of difficult processing for conveyor belts, as well as processing commonly used in the industry. And can provide personalized custom processing according to drawings. Regular products have sufficient inventory and strong production capacity, reducing waiting time for customers. Our main products are rubber conveyor belt, PVC conveyor belt, PU conveyor belt, PE conveyor belt, metal conveyor belt, ordinary type, strong type (nylon, polyester, steel wire rope core), acid and alkali resistance, high temperature resistance, flame retardant, Oil-resistant, heat-resistant, tear-resistant, puncture-resistant, food, pattern, tubular, rib, flame retardant, cold-resistant, energy-saving, PVG conveyor belt, wire rope conveyor belt for coal mines, etc.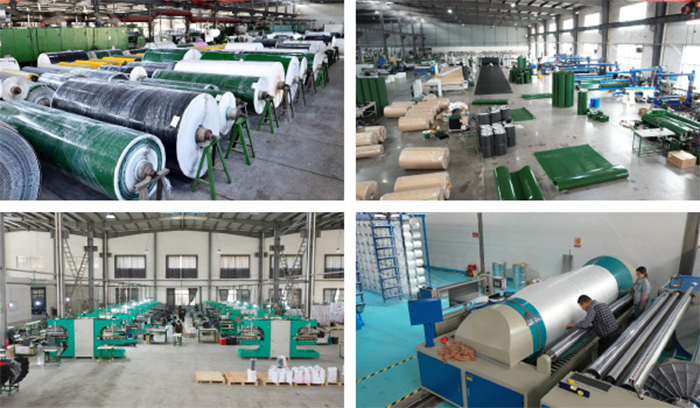 Shandong Faster Conveyor Belt Co., Ltd. has exquisite manufacturing technology, stable quality assurance, high-quality pre-sale, mid-sale and after-sale service teams, high-level professional technicians and rich management experience, and has successfully passed ISO9001 Quality management system certification, ISO14001 environmental management certification. A series of advantages make its products quickly occupy a large sales market at home and abroad, always adhere to a high starting point, high standards, and constantly carry out technological innovation, so that the company's overall technology and equipment level is superior to the same industry, favored and supported by many customers, At present, more than 86% of the regions in China have established good cooperative supply relations, and they have conducted business transactions in Europe, France, Germany, Italy, the Netherlands, Australia, India, Pakistan, Turkey, Vietnam, the United States, Brazil, Saudi Arabia and other countries. Established a long-term cooperative relationship.
Factory direct sales · Customized worry-free
More than 15 years of deep technical team, with tens of thousands of customer experience accumulation. Starting from the core of the whole category, the whole process and the whole industry chain, from production and processing to product sales, we will deeply solve the problems of conveyor belts for you. As long as you have a drawing, we can customize and target production for you ! Create a high-quality conveyor belt supplier.